Microsoft WDS Foutmelding
De melding :
The task sequence has been suspended.
LiteTouch is trying to perform NIC configuration.
This cannot be performed in Windows PE.
If booting from a USB Flash Disk, please remove all drives before restarting.
Otherwise, ensure the hard disk is selected first in the boot order of the BIOS.
Reboot WinPE (Close all windows) to resume.
Deze komt vanuit een nieuw deployment op een nieuw systeem.
Het uitgerolde image is een Windows 10 image.
De eerste keer ging goed, het selecteren van het besturingssysteem, opties, taal, toetsenbord etc.
Daarna begon het uitrollen en na een reboot kwam deze melding.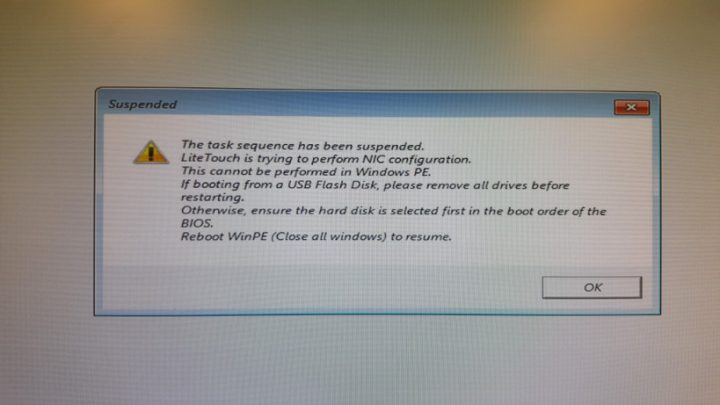 De oplossing is echter vrij eenvoudig !
Ga naar de BIOS van de uit te rollen computer en controleer de boot order.
In dit geval was de bootorder : USB Cardreader, DVD Drive, Harddisk0, Netwerk
Omdat de Cardreader als eerste staat, is dit ook van invloed op de driveletter toewijzing.
Nadat Windows geïnstalleerd is, en de cardreader herkent, zal Windows een driveletter toewijzen welke in conflict is met WDS en daardoor zijn tasksequence niet verder af kan maken.
Wijzig de boot order in : harddisk0, DVD drive, USB Cardreader, Network en alles werkt weer !
Het is mogelijk dat de reeds uitgevoerde deployment nog steeds niet goed werkt.
Druk in bovenstaand scherm dan op F8, start diskpart en verwijder alle aanwezige partities zodat WDS de schijf weer opnieuw kan indelen en toewijzen.
Daarna liep de installatie netjes door.