Had ik weer……tijdens het testen van een Agenda sync. tooltje werd de complete Algemene agenda leeggetrokken en waren alle items verdwenen.
Dit betrof een public folder in Exchange 2010.
Ik wist dat Exchange items nooit meteen definitief verwijderd, maar aangezien het om een Public Folder ging, werd recoveren van deleted items wat ingewikkelder.
Toch maar verder zoeken en ineens stuitte ik op een tooltje "ExFolders" waarmee je deleted items (ook uit public folders) makkelijk kunt recoveren !
Heb je het nodig ? :
Download de tool HIER
Pak de zip uit op de Exchange server en plaats de .EXE in de bin map van je Exchange installatie.
Wanneer je de exe uitvoert, zal deze meteen crashen. Dit komt omdat dit een unsigned executable is.
In de zip bevindt zich ook een register file, deze dien je te importeren en dan kun je de tool opstarten.
Via "File" –> "Connect" verbinding maken met je Exchange Server en maak de keuze of je de Public Database of de Mailbox Database wilt openen.
Dan kom je in een overzicht. Kies hier in welke mailbox je items wilt recoveren en klaar !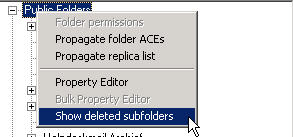 Meer info is hier te vinden.
Werkt perfect ! 🙂